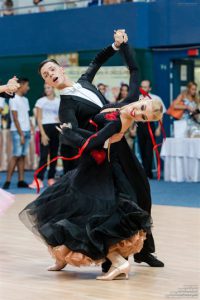 The first DanceSport Europe European Universities Championship in Standard and Latin was held 11.9.2016 in Bratislava as a part of Slovak Open Championship, an official event of the European Week of Sport. In total 44 couples from 10 countries, individually representing 43 universities or the last grade of a secondary school participated. Eva Bartunkova, the general secretary of DSE in her opening speech welcomed all the participants and thanked the organizers, Slovak Dance Sport Federation and Slovak University Sport Association, among them the sponsors and partners Valery Lebedev – EurodanceLux providing the trophies and medals for this championship as well as a special trophy by DSE for the pilot project Grand Prix for Children scheduled on the day. Gaudeamus Igitur, the anthem of students then opened the event.
The title of DSE European Universities Champions in Standard dances went to Tomas Fainsil and Violetta  Posmetnaya representing Lithuanian Sport University, Lithuania, followed by the silver medallists Matej Stec (Technical University Kosice) – Elena Popova (UK Bratislava) from Slovakia and Klemens Hofer (University Wien) – Barbara Westermayer (Academy of Fine Arts) from Austria in third place.
DSE European Universities Latin Champions became Radim Vyslouzil (VSB – TUO Ostrava) – Tereza Sedlakova (Gymnasium Kromeriz) from the Czech Republic, second place went to Joris Sangavicius – Ieva Urbonaite (Lithuanian University of Educational Sciences), Lithuania. Bronze medal in Latin for Matej Stec and Elena Popova from Slovakia. Together with the second place in Standard made this couple as the most universal couple winning also a special trophy for the combination by DSE.
The complete results are available on WDSF web page. DSE European Universities Championship 2016, Bratislava: Standard, Latin.