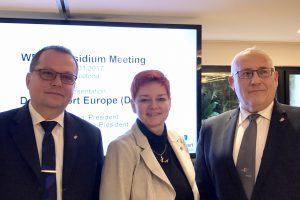 DSE President Luis Vaño and Vice-President Heidi Estler made their way to Barcelona (Spain) and presented the continental association to the members of the WDSF Presidium meeting.
The small DSE delegation promoted the European point of view and the perspective on diverse projects and especially on sport affairs concerning the European matters. As part of their presentation, the two representatives of DanceSport Europe outlined their ideas for the funding of the running of the organisation through a range of initiatives.
The WDSF Presidium and the DSE delegation agreed to coordinate DSE activities between both organisations at all times. As a result, WDSF agreed the appointment of a Liaison Committee to discuss the proposed matters with DSE.
Foto: Lukas Hinder, Heidi Estler, Luis Vaño