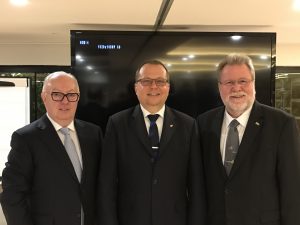 During the WDSF Presidium Meeting in Barcelona in January 2017, WDSF President Lukas Hinder announced an agreement between WDSF and Marco Sietas resigning all of his duties in WDSF including the WDSF Sports Director, coming into effect on December 31, 2016.
DSE President Luis Vano thanked Marco Sietas on behalf of all colleagues in the Managing Committee in a letter for the constructive and trusting cooperation. DSE wishes Marco Sietas all the best for his future plans.
The WDSF Presidium voted to appoint Tommy Shaughnessy of Dublin, Ireland, to a newly created employment position in WDSF. He now becomes "WDSF Sports Director", but in the capacity of an employee of WDSF and not as an appointment member of the WDSF Presidium. The elected position of WDSF Sports Director will remain vacant until the end of the current Presidiums term of office at the 2017 WDSF Annual General Meeting.
The members on the WDSF Presidium voted Second Vice President Michael Eichert of Freiberg, Germany, unanimously to assume the chair of the Sports Commission.
(Foto WDSF: Shaughnessy, Hinder, Eichert, Text: Estler)