DanceSport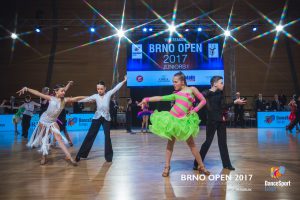 Europe introduced a new competition series of DSE Children European Grand Prix for Juveniles I, II and Juniors I and II age categories in standard and latin-american dances as part of the Brno Open 2017 Dance Festival 1.-2. April 2017.
151 entries by 89 couples – 178 children from 16 countries in total made the kick out of the brand new series by DSE extremely successful.
The best couples with the highest ranking score from three competitions included in the series will be announced as winners of DSE Children European Grand Prix and they will get a special winning trophy. The Ranking list will be published at DSE website.
The next leg of the series will be organised in Bratislava in September 2017 where the Children Grand Prix initiative got into life by Igor Jagersky, first as a national event. DSE is now looking for other competition organizers for the CHEGP within its European member federations. DSE managing committee trusts that this series and ranking will give prestige to DanceSport among children and will help to motivate young generation for competing.
The winners of the first "leg" of DSE CHEGP, Brno, Czech Republic:
Juvenile I STT: Dragos Josan – Alexandra Bezniuc, Moldova
Juvenile II STT:  Mateusz Stawowy – Sara Silva, Poland
Junior I STT: Sergey Burdin – Anastasia Sitnikova, Russian Federation
Junior II STT: Aleksey Bessonov – Evgenia Kolmagorova, Russian Federation
Juvenile I LAT: Dragos Josan – Alexandra Bezniuc, Moldova
Juvenile II LAT: Mateusz Stawowy – Sara Silva, Poland
Junior I LAT: Georgy Gudovsky – Kamilla Shaymyardyanova, Russian Federation
Junior II LAT: Hubert Raczek – Magdalena Kowalska, Poland
The DSE managing committee wants to express its gratitude towards the organizers and Czech Dance Sport Federation for their help for establishing the series in such a successful way.
(Text: Bartunkova, Photo: Makrlik)