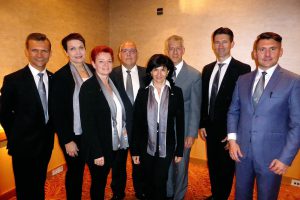 DanceSport Europe (DSE) made the start of the international members meetings in Singapore. Because all European members were also present at the WDSF-AGM, this place has also been chosen for Europe for simple travel reasons. 26 member federations were present.
The members of the Managing Committee added some more information to the written report. It was presented the tasks and the vision of the European continental federation, for example the clear claim to organize European competitions in its own sovereignty and to maintain independent cooperation with other European organizations. A series of events and championships are planned, including a European Senior Series (Senior Grand Series) with corresponding prize money.
The reports were unanimously confirmed, also the financial report and statements as well as the financial plan for the current and coming financial year. The Managing Committee's work during the past 12 month was unanimously approved. Furthermore the new membership of the "European Cheerleading Association" was confirmed.
Text: Heidi Estler
Foto: Managing Committee DanceSport Europe and Chairperson of the meeting
Robert Wota, Leena Liusvara, Heidi Estler, Luis Vano, Eva Bartunkova, Herbert Waller (Chairperson), Zoltan Sandor, Christian Zamblera